Sites
Six siteswere initially involved in the investigations of the NoeSLIDE project. In three of these sites, the research has already been completed (see below). The three remaining sites are the current core sites of the "eSurfLab". At two of theses sites (Salcher and Hofermühle), automated measurements are collected several times a day (every 5 minutes). In addition, further measurements are taken on site at regular intervals (approx. monthly). The site´s own power and broadband internet connection, which allows for long term and reliable runtime as well as rapid data transfer. Extensive instrumentation of the Brandstatt site is planned for 2022.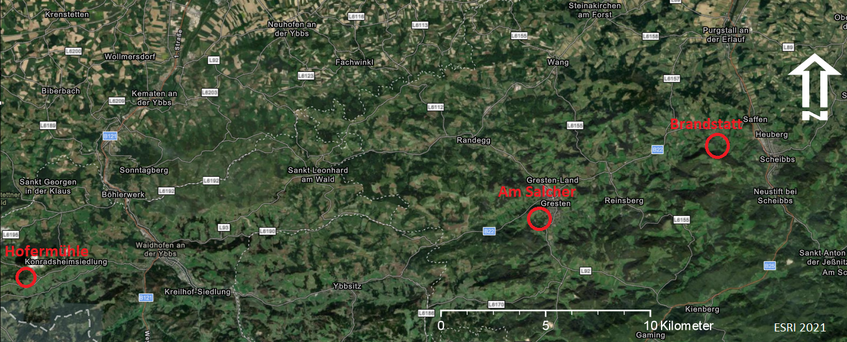 Ongoing and planned sites:

Salcher

landslide (ongoing since 2014)




One of the main investigation sites within the NoeSLIDE project into the Salcher landslide in Gresten (district of Scheibbs). A separate website with extensive details is dedicated to this site; see

Salcher Landslide Observatory

Hofermühle

earth slide - earth flow (ongoing since 2018)




The second main investigation site is the Hofermühle landslide in Konradsheim (district of Waidhofen an der Ybbs). More information about this site can be found on a separate website dedicated to it, see

Hofermühle

.

Brandstatt

landslide (in preparation for 2022)


The Brandstatt landslide is a widespread and deep landslide coupled with smaller and more superficial processes. Movement rates are low, but occur over large areas and have a high, continuous damaging effect, which is why investigations have been conducted here in the past by the GBA. New data was acquired with a terrestrial laser scanner to detect current surface changes. Installations of a meteorological station and several inclinometers and additional subsurface sensors are planned for spring 2022.
Completed sites:
Eckerwirt

mudflow (completed)




The Eckerwirt site is located NE of Hofermühle, with similar characteristics but on a larger scale. Surface changes were recorded here using a terrestrial laser scanner.

Amtmann

rock fall / tipping (completed)


The Amtmann is an approximately 30m high freestanding rock tower in the Ybbstal valley and is located close to the busy Ofenloch road (B31). To investigate possible movements, a wireless sensor node network was installed on the rock and multi-temporal TLS data was used to investigate possible fall processes (rockfall) as well as fissure formation.

Ofenloch

rock fall / rock fall (completed)




The Ofenloch road (B31) between Waidhofen/Ybbs and Opponitz is highly endangered by rockfall and rockslides. In order to be able to determine areal changes on correspondingly endangered rock faces, a rock face on the right bank of the Ybbs was surveyed at regular intervals using a terrestrial laser scanner.